In collaboration with Team XYZ
Increasing your website's visibility and extending your online presence is important to your success and help you to stay ahead of the curve. Extending your network and exposing yourself to larger audiences can lead to inspiration and important growth. You can develop your skills, maintain a pulse on the happenings in your industry, gain access to valuable resources, and gain exposure to your website from new prospective mentors, partners, and clients.
Connecting with your peers and other prominent members of your industry is one of the best ways to accomplish this critical development. There are many types of online platforms that can help you effectively create unique and mutually beneficial connections. That's the reason we're sharing how to continue innovating and staying current by increasing your visibility through online communities and digital platforms. We'll offer you six helpful platform ideas that you can use to increase your online visibility, as well as six .xyz websites that can help you implement these tips.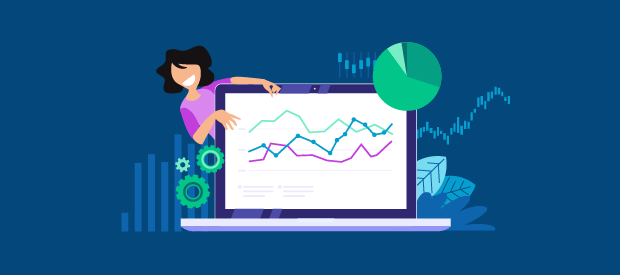 Your expertise can be of incredible value to your peers, especially if your particular field is very nuanced. Sharing your research to a larger audience with the use of a data analysis platform means that your peers can benefit from your expertise, help showcase your services, and lead more traffic to your website through organic promotion. A data analysis platform is a system of services and tools that can help users to perform analysis on complex data. These analytics platforms can provide you with tools that offer a wide variety of techniques to help tell your data's story. Once your work is available for review by your peers, you may receive valuable feedback to help further develop your skills. Other members of the community may be engaged by your work and want to visit your personal website for more background information, contact details, or updates on your services. Providing a link to your website amplifies your online presence and provides members with the opportunity to learn more about you and your work.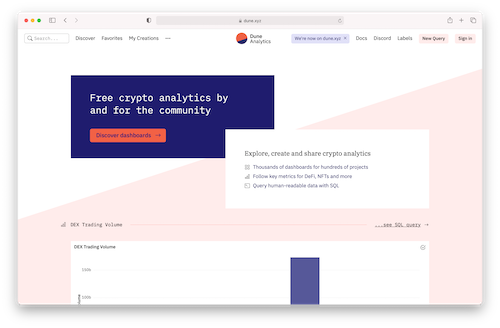 Dune.xyz is an example of a data analysis platform that encourages the sharing of expertise. As a user, you are given a profile page that you can use to share information about yourself, including your website address. The profile page is your "author" page for any analysis projects you create. Dune.xyz offers access to and analysis of the growing volume of Ethereum blockchain data. Analyzing and sharing insights on the data can help development teams expedite the improvement and creation of more blockchain tools. Dune.xyz provides users with the tools required to query, extract, and analyze large volumes of data from the blockchain, which can be shared in multiple ways, including on social media. Skilled users, called Dune Wizards, can assemble their research projects onto a dashboard available to all fellow users and shareable to the world. When someone is interested in your work, they can easily find you by your website link in your Dune.xyz profile. For instance, user Tobias Schubotz shares his website alongside his many crypto data research projects. You can also see that his work has been "favorited" by various users, earning him 619 stars.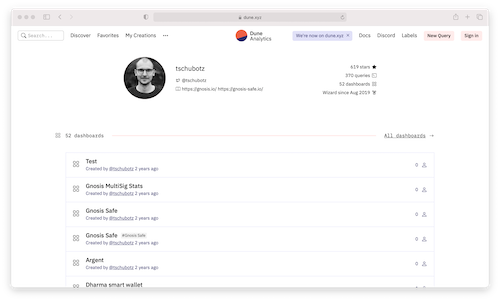 Sharing your expertise on a community platform that helps users analyze and understand complicated data can help promote your services and direct more traffic to your website.
Tip 2. Foster relationships through a Listserv community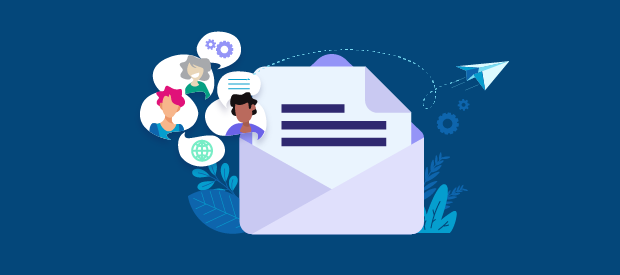 Email discussion lists, also known as Listservs, are a powerful method for sharing knowledge. A Listserv community can help you gain visibility for your website and make valuable connections among a network of people with shared interests. A Listserv is a method of communicating with a group of people through email. You can send one email message to the main email address, and the managing software then sends the email to all of the group's subscribers. Listservs are typically centred around a shared interest, such as a profession or industry. There are lists where only the list owner can send a message, and there are also discussion groups, where any subscriber can post a message. The managing software handles subscriptions, email bounces, and delivery of email messages to very large groups of people. Listservs can be intimate and remote communities that help foster professional relationships and generate traffic to your personal website. They can be a jumping-off point for collaborative projects and earning new clients. Your new professional relationships can help build your reputation in your field.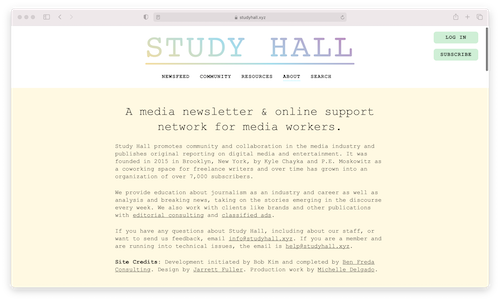 StudyHall.xyz is an example of a Listserv community that can help you implement this tip.
The Study Hall Listserv is an independent media outlet and online support network for media professionals. It is an online community for freelance writers with the goal to promote community and collaboration in the media industry. Members can network and share experiences through the platform's Listservs and Slack groups. StudyHall.xyz also sends a member digest with commentary on current news and resources for aspiring journalists. Members can easily connect with the rest of the community and interact with all of the features of the website.
StudyHall.xyz members can also find links to each other's websites, social media accounts, email addresses, and Slack channels where their community has a presence. The platform has an email Listserv of over 4,500 members who receive weekly newsletters and access to informative Slack chats and editor databases.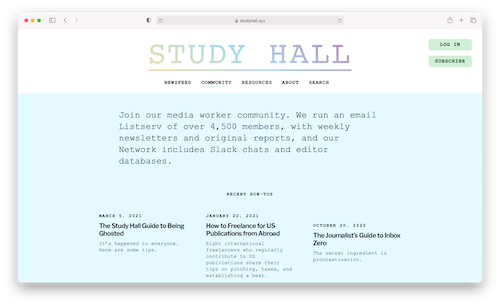 By joining a Listserv community designed to promote collaboration, you can gain visibility, valuable connections, and a network of shared interests that can help develop your success.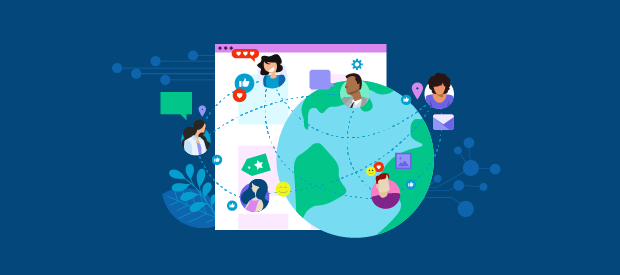 Another popular type of online platform that can help increase your website's visibility is a social networking website. Joining a social network can help you make valuable connections with peers and gain visibility for your website. Social networking is the use of websites and digital applications to create and maintain connections with people all over the globe. It can be used socially or professionally and has become a significant tool for professionals seeking to engage with customers and new business contacts. There are prominent platforms such as Facebook, Twitter, LinkedIn, and Instagram, but there are also niche networks that may share a more focused view or belief system. Joining a network with a central idea or belief system can make it even easier to connect with like-minded members of your community and foster meaningful and mutually beneficial relationships. You can develop new professional relationships that can lead to opportunities or new clients and collaborators.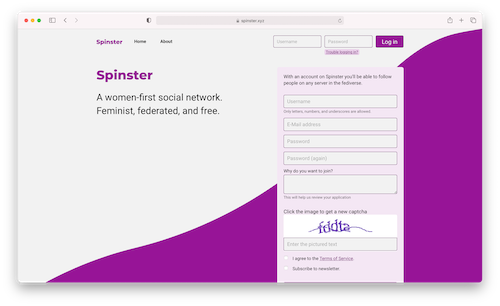 Spinster.xyz is an example of a social networking website with a shared belief system. The platform is meant to provide a safe space for feminist dialogue. Spinster.xyz's moderators strictly enforce policies against the use of slurs, messages of misogyny, stalking, and harassment to ensure that feminists have a safe platform to connect with each other. Users can post up to 3000 characters in public or direct messages. The posts can include photos, videos, and polls, and posters can tag each other through their "@spinster.xyz" handles.
You can use your profile page to share as much information about yourself as you feel comfortable. One of the current moderators, illustrator and artist Alison Emily Vogelaar, shares a link to her own website, where she grew up, and her interests in her profile. Members can easily connect with the rest of the community and interact with all of the features of the website. Alison has over 400 followers and has made over 1,000 posts on this platform, including personally empowering moments, samples of her artwork, and updates to her website.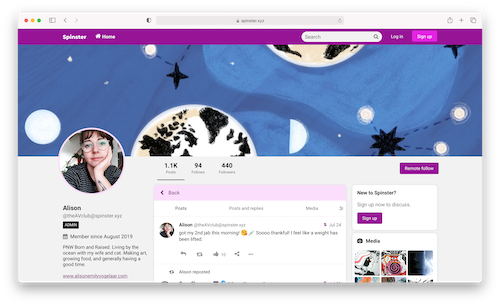 Engaging with a like-minded social network can help you gain visibility for your website and make valuable connections with peers who share your core beliefs and want to see you succeed.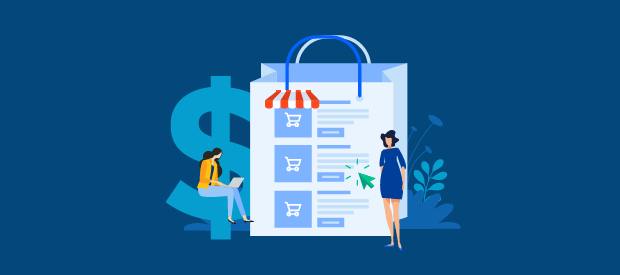 Marketplace platforms such as Amazon, eBay, and Etsy can help facilitate the display and distribution of your work through a central directory. These platforms can also help your website gain valuable exposure to fellow creatives and supporters. You can reach out to various marketplace platforms to review their guidelines and membership details, including potential membership fees. Once you join the platform, you can develop your own creator page on the platform, where you can display your work with as much relevant background information and product details as you can provide, including a link to your personal website.
Joining an online marketplace helps you to showcase your work to a global audience of users who can purchase and support your work, while the website facilitates the purchasing or sharing of your work. Marketplace platforms provide a virtual storefront to display your designs, and your participation can earn widespread, global visibility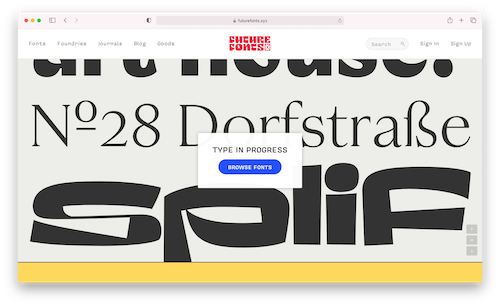 FutureFonts.xyz is an example of a marketplace platform where you can share and showcase your work. FutureFonts.xyz is a font foundry where font designers can share designs and draw inspiration from fellow creatives. Users can download fonts for affordable prices, and some even welcome users to simply contribute what they can. Each contributor has their own profile page where they can display a personal website, photo, and location, such as France-based Pauline Fourest and her design studio Spaghetype. Users can leave comments on each font's page, like the comments left on font design "Mayonnaise".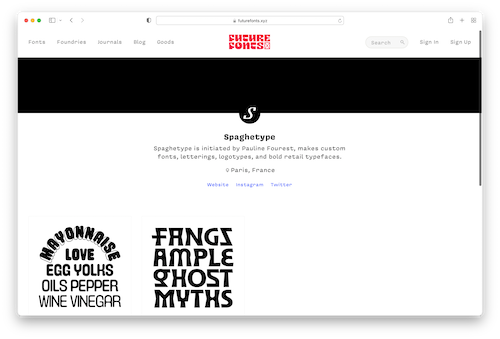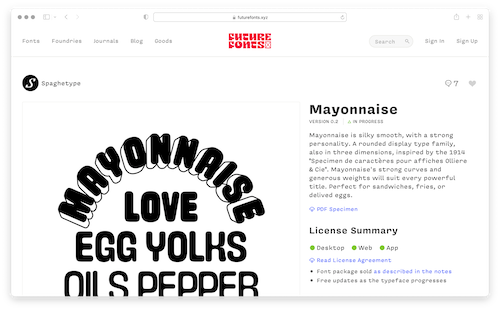 Joining a marketplace platform can help your website gain valuable exposure to fellow creatives and supporters.
Tip 5. Join a competition-based platform in your field to demonstrate and develop your skills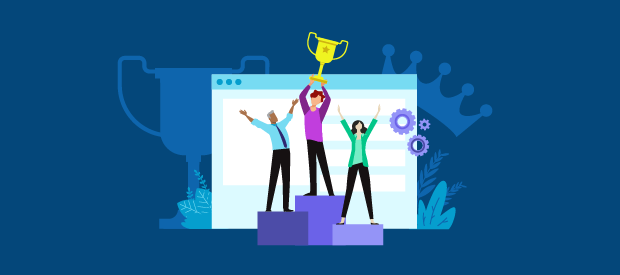 Competition-based platforms can help you demonstrate your skills for a wide network of potential clients and collaborators and attract attention to your personal website. Competitions can require good communication, foster collaboration, and promote teamwork. They tend to encourage growth and skill development. While competing, we are assessing the other competitors and evaluating our own skill level. Competition-based platforms facilitate competitions that may be open to the community of users. They can be hosted or sponsored by a client, who will then select the winner based on their specifications. Participants compete to win, which can lead to further opportunities with the host of the competition, or perhaps from other users who have been exposed to your incredible skill.
Uni.xyz is an example of a website that can help you pursue competitions to demonstrate and develop your skills. The platform is a community created for designers, by designers, that provides opportunities for its members to showcase their skills, find clients, and collaborate on design challenges. The competitions provide designers with a chance to propose their work to potential clients and mentors. They also give designers the ability to collaborate with other professionals to share ideas and solve challenges as a team. It is a mutually beneficial relationship, as clients benefit by getting a first-hand look at highly talented individuals and teams ready to take on new work. Users can set up a profile page where they can link to social profiles on other platforms as well as upload content ranging from videos, blogs, podcasts, articles, illustrations, and images. There are separate sections for projects, where other users can leave comments, facilitating conversation between fellow members. Uni.xyz posts the winner, runner-up, and "editor's choice" of each competition on the platform, creating great exposure to the community of users.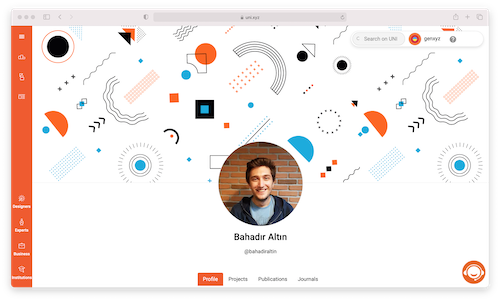 Joining a competition-based platform helps you to demonstrate your skillset for potential clients and collaborators, gain visibility to your website, and be part of a community of inspiring design professionals who can further develop your skills.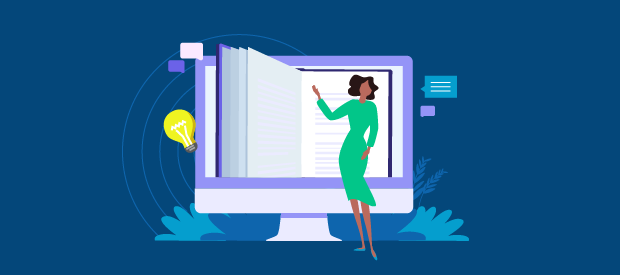 Teaching about your knowledge to others can help develop your authority. Applying to teach on a digital education platform opens you and your personal website up to a global audience and provides the opportunity to learn from others in the same community. You can use these educational platforms to record and share live classes, upload presentation videos, and provide accompanying learning materials to interested students who enrol in your class. You can also publicize your website for additional background information. You will also gain the opportunity to learn from, and network with, other authorities in your field.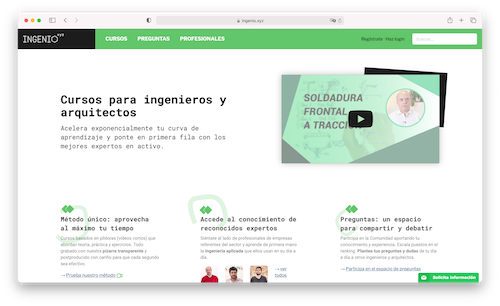 Ingenio.xyz is an example of a Spanish language educational platform to help you implement this tip. The platform is an online training platform for students and professionals in the field of architecture. Ingenio.xyz selects teachers with years of experience that have achieved a working knowledge of their field. Each educator has their own profile pages they can use to provide their personal website, contact information, and background information. Civil Engineer teacher Jorge Chamorro, who shares a link to his articles on topics like wastewater treatment, as well as information about his extensive background in the water sector. Educators in the Ingenio.xyz community are rewarded points based on their activity. Jorge has earned 5,491 points, which helps him stand out in the platform's ranking of professionals.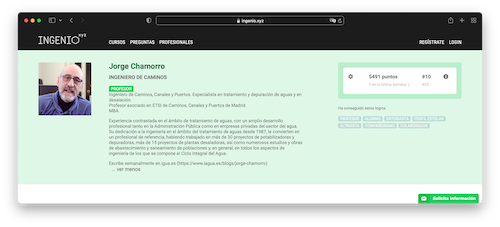 Sharing your knowledge on an educational platform helps you to build a reputation as an expert in your field, increase visibility to your website, and provide the opportunity to learn from others in the same community.
Conclusion
Staying ahead of the curve means improving your visibility, promoting your services, and opening yourself to receive inspiration and growth. Joining an online platform can help you to share your knowledge with an appreciative audience who may further share your expertise and increase the online presence of your website. If you can find your niche in a community of like-minded professionals who share common goals, you can help extend each other's visibility through collaboration and support.
Taking advantage of platforms like the ones developed by these end-users can help increase your visibility, foster your professional development, help you find a community of mentors, partners, and clients, and grow traffic to your website.